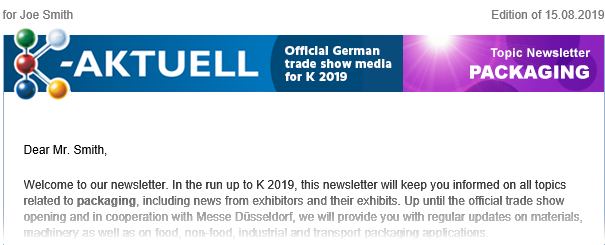 Show newsletter preview...
The K 2022 is huge. Together with Messe Düsseldorf, we offer special services so that you can keep an overview of the goings-on in the 18 halls.
K-AKTUELL, the official German trade show daily for K 2022, will be reporting live for you on a daily basis from 19 to 26 October in Düsseldorf on product premieres, exhibitor innovations and what is happening at the fair.
More about the K 2022 German trade show daily...
Before K 2022 officially starts, we are already expanding the online services of K-AKTUELL.de by topic-specific newsletters on new products, fair exhibits and plastics applications. Keep yourself regularly informed about new products and applications that are of particular interest to you – even before the fair begins! Register here for free and select the topics that are relevant to you.
Be well informed and optimally prepared without any obligation. Learn about new products, trends and developments well before the fair starts. Plan your fair visit more efficiently and make your K 2022 days a particular success.
Until then, we eagerly anticipate the fair together!